It's a question that comes to the mind of every parent when getting their young star in the making equipped for baseball; what is the best baseball bat for little league in 2021? Today, I'm going to answer that question for you. Let's do some research and find out what comes out on top!
How To Choose A Bat For Little League Baseball
Unlike other sports, Baseball doesn't require you to empty the bank account and purchase numerous pieces of kit; just grab a bat and gloves and you're good to go.
But it's not as simple as just grabbing a bat, especially when hunting for a youth baseball bat; there are lots of factors to consider before you can make a purchase for your young star.
Here is a list of things that you must take into consideration before you make a decision.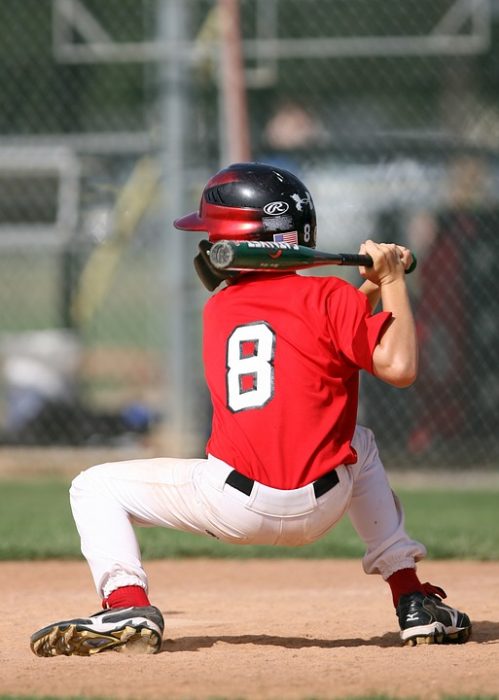 Bat Drop
I'll start with what the drop of a bat means, as this is determined by the length and weight.
The drop of the bat is determined by the difference between the bats length in inches, and its weight in ounces.
For example, a 28-inch bat that weighs 18 ounces will have a drop of -10. You will often see the drop listed on sales pages for little league bats.
Drop is an important thing to take heed of; The bigger the drop is, the lighter the bat will be to swing.
This is a good thing, especially for a little league baseball player, as it will make it much easier to control the bat, therefore the contact will be better.
The best baseball bat for little league players is certainly going to be one with a high drop.
You will typically find that baseball bats for kids will have a drop range between -13 and -5, with the most common between -10 and -8.
Bat Length and Weight
The older the player becomes, the smaller the drop will become. Naturally, as a young kid develops, they will get stronger with age, and can handle a heavier bat. So how do you know which drop to choose?
This is where length and weight comes in.
There is no general choice for this. This is all about the height and weight of your kid.
The best thing you can do is take an exact measurement of your child's height and weight. It's crucial that he doesn't get a bat that's too heavy or too light.
Thankfully, after you have done this, there is an easy way of determining which drop range your child is in…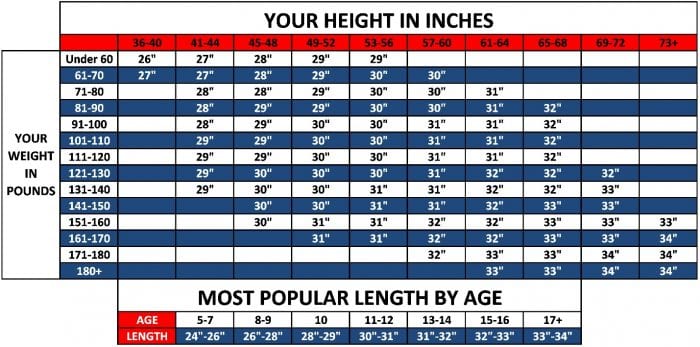 Simply refer to the above baseball bat sizing chart and you will have your answer right in front of you!
League Rules and Regulations
Now you have a good idea of what size little league baseball bat you will be looking for, it's time to consider the next factor.
Little League baseball, like any other baseball leagues, come with rules and regulations. There will certainly be regulations for which bats are approved for use.
There would be nothing worse than investing good money in a bat for your little league star, to then find out it's not approved for their league!
Different Little League divisions will have different rules.
Tee-ball, as of writing, is capped at 26", and the minor league division is limited to 33".
All USA Approved bats can be used in USSSA. The biggest difference between USA and USSSA is that USSSA allows a larger barrel size.
Make sure to check with your kids league so you know what can and can't be used on the field.
Design
So you've done your research, you've picked the bat, you present it to your kid, and what does he say? 'Ugh, mom, dad, this looks horrible!'.
If there's one thing we know that is consistent in all kids; they can be extremely picky! It doesn't matter if it's the food on their plate or the baseball bat in their hand.
So the last thing to consider is; does it look good, and will they like it?
Make sure you consult with your kid before you make the final choice – if he loves how it looks, you can breath a big sigh of relief!
It fits all of the criteria, your kid will know he's got the best baseball bat for little league, and he thinks he looks damn cool when he's playing – I'd consider that a job well done.
Best Baseball Bat For Little League:
Top 3 Picks For 2021
That's the research taken care of; it's time to pick the best baseball bat for little league in 2021.
The top 3 bats in this category I have chosen come in a range of length and weight options so you can find the specification you need for your kid.
1. Louisville Slugger Solo SPD

| RATING | CHECK PRICE ON: |
| --- | --- |
| | |
The 2020 range from Louisville Slugger is undoubtedly their best offering to date; there is a range of choices for all level of players and all ages.
The Louisville Slugger 2020 Prime is making the most headlines, but my preferred choice, especially for little league, is the Solo SPD.
Why? It's weight. It's the lightest of them all, making it more suitable for younger players, but it doesn't lose any quality against the other bats in the range.
This bat can be ordered in an incredible drop of 13. Yes, -13. There are a range of different sizes once more to fit your kid.
The bat is also USA approved and certified, making it highly likely to be approved for your kids league.
I would consider this bat to be the best baseball bat for little league in 2020 – but don't rule out our next two options either!
2. Easton 2020 Ghost

| RATING | CHECK PRICE ON: |
| --- | --- |
| | |
We have an extra-detailed review available for this bat!
Check out our Easton 2020 Ghost review.
When you ask somebody to name a baseball bat brand, you can bet that quite a few will see Easton spring to mind first.
They're one of, if not the most respected baseball bat creator in the world, and the 2020 Ghost certainly backs up that general opinion.
If you're in doubt on the right specification for your kid at this age; worry no more. The 2020 Ghost comes in such a vast amount of sizing options that it will be impossible to not find the right one.
The thing that stands out most is the balance of this bat. Neither swing speed, nor hitting power is compromised by the other.
You might have noticed from the sidebar that we've picked this bat out as the best fast-pitch bat for 2020; it's USSSA approved, but for fast-pitch only. Bare that in mind.
It also comes fully certified for use in the ASA (USA), NSA, ISA and ISF.
3. DeMarini 2020 Voodoo
| RATING | CHECK PRICE ON: |
| --- | --- |
| | |
Our final choice is from one of the best youth bat brands in the world; DeMarini.
The DeMarini 2020 Voodoo comes with a stunning design that is probably catching your eye as you're reading this; just imagine what your kid will think! They'll be the envy of Little League when the opponents catch a glimpse of this one on the field.
It hasn't just got a great look though; the bat comes in a variety of different drop sizes, and we would aim towards the -9 or -10 option.
The bat also comes with the maximum 2 5/8" barrel, which will help your kid immensely with their ball striking.
This bat is also USSSA approved, so you should have no problems whatsoever in it's use for competitive league play.
Conclusion
We're confident that one of the three we've chosen above will be the best baseball bat for little league players in 2021.
Louisville Slugger, Easton and DeMarini are brands that have been around for a long time, and they know how to make a bat.
There are so many different options for specification between all three that you are certain to find the right option for your young star.
If you want to go into even further detail, head over to my post on the best youth baseball bats; we list even more choices, just in case your kid doesn't like the look of the above.
Got a comment or question? Please feel free to comment below and I will get back to you. If you liked the article, I would also really appreciate a social share or two!