As a parent, you want to find the best bat for your little league player. But what bats are approved by USA Baseball for the 2022 season? And how do you know which one is right for your player? Keep reading as we break down the top 5 bats approved by USA Baseball and help you figure out which one is perfect for your child.
Best USA Bats for the 2022 Season
Factors to Consider When Shopping for USA Baseball Bats
As you search for USA bats for your kid, remember to check for the USA baseball bat standard (USABat) stamp of approval on the barrel, as well as in the product's description. USA bats, beginning in 2018, are held to different standards for the sake of your kids' safety on the field.
Along with the stamp, you should take note of the following characteristics when looking for the right USA baseball bat.
Material
USA bats are usually made to perform at a wood-like level while being composed of non-wood materials, such as alloy, aluminum, and composite carbon fibers. Alloy-made bats have more endurance and power from the start, but all-composite bats, once broken in, often perform even better in the long run.
Barrel
The barrel of the bat performs differently, depending on its construction and components. Single-barrels, double-barrels, multi-layered barrels, and other variations exist. The barrel length and width, the thinness of the barrel walls, and the properties of the barrel's cap: These will all tell you what to expect from the bat in terms of swing weight and speed, sweet spot size, and overall feel.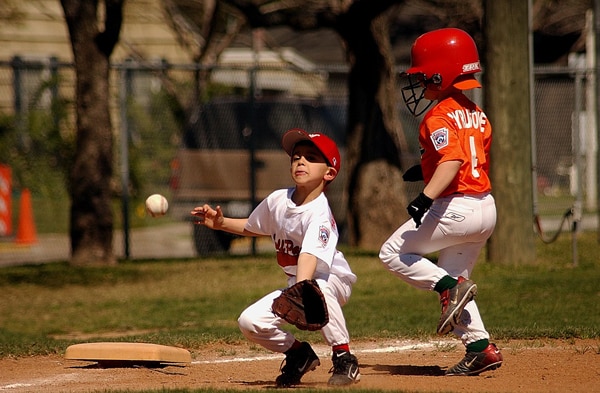 One-Piece vs Multi-Piece Bats
The general rule is that a good USA bat has a two-piece or more construction so that there is a separation between the barrel and handle. The shock absorption is handled better in multi-piece models. However, there are many one-piece bats that contain other features to nullify vibrations, and some players just prefer the traditional feel that one-piece bats can give.
Balance vs. End-Loading
A young player benefits from a bat that has its weight evenly distributed, no matter what material and construction it has. However, a stronger player at this age can benefit from powerful end-loaded bats. Know your child's strengths and weaknesses when contemplating this feature.

Drop Weight
This is another characteristic that can make or break a young player's game, depending on their skill and strength level. The right drop weight will maximize a player's abilities, as well as the features within the bat.
Details
Smaller details that your child's USA bat could have—like a good endcap, a comfortable yet rugged handle grip, and quality connections between the handle and barrel (if a multi-piece bat)—are particularly important. Sometimes the smaller features make a huge difference in overall bat performance.
Our Top 5 Picks: Best USA Bats for 2022 Reviewed
Here are our top 5 USA bats for 2022. We believe they are the best USA bats for young players this year.
1. Easton ADV 360 2022 USA Baseball Bat

| RATING | CHECK PRICE ON: |
| --- | --- |
| | |
This latest model of the Easton ADV 360 is a two-piece composite bat—both the barrel and handle made from airy carbon fibers. The handle's grip is raised, tacky, and perfectly stiff. The flexibility and responsiveness of the bat's barrel are nearly limitless because its construction amplifies every hit from every angle.
This is one of the best USA baseball bats on the market, coveted by many young players for its steadfast performance.
Review
The young player will be amazed at how this bat feels, especially this model with a drop weight of -10 or -11. The new DFS Carbon Handle is easy to grab and hold.
The textured feel from Easton's Lizard Skins Wrap will give your child a sense of security. The handle's structure overall is stiff enough for strong swings.
The handle and barrel are expertly connected by the iSo Connexion system, made from Nitrocell foam. This system prevents hand-stinging and negative feedback wonderfully well.
Another small detail with a big impact on the field is the barrel's Speed Cap, which facilitates the 360-barrel's maximum abilities. The Soft Knob at the other end of the bat contributes to its incredible, balanced swing weight and works in tandem with the handle to nullify vibrations. This provides the user with more power and control.
The best part of this bat is its barrel construction. This barrel is made to boost direct and off-centered hits.
We felt the strong trampoline effect on contact and found the sweet spot very sizable. This is thanks to the 360 Engineering Barrel Precision. The Ultra-Lite Launch Composite Technology contributes to the swing weight, the balanced feel, and the breathtaking swing speeds achieved in the diamond.
The drop -11, we believe, is the best version of Easton's ADV 360 model. It can feel like a -10 to some players, and heftier versions (-8, -5) are best for experienced power-hitters. Nonetheless, no matter the drop weight, this is a high-caliber bat.
Pros
Excellent Overall Performance
Very Little Negative Vibrations
High Swing Speed
Cons
Drop -11 Swings Like Drop -10, Buy with Care
2. Marucci 2022 CAT -10 USA Baseball Bat
| RATING | CHECK PRICE ON: |
| --- | --- |
| | |
Here we have another quality, one-piece aluminum bat, built for longevity, maximum performance, and some of the highest response rates of the brand.
The 2022 Marucci CAT flourishes with an intelligent barrel design, including thinner walls and ring-free barrel construction. This bat also features on our overall best youth baseball bats list for 2022.
Review
Players can expect their skills enhanced on the diamond with this bat. Most bats have dead spots that young players learn to avoid with time and practice. With its ring-free and flexible multi-varied barrel, this Marucci bat was made to speed up the learning process.
The sweet spot is large, and the pop is dependable. Swinging it, we found the thinness of the barrel walls created an enhanced trampoline effect. The bat was also very tolerant towards off-centered hits.
This is a smooth and balanced aluminum one-piece, the strongest of Marucci's CAT line. The swing and feel are traditional.
As the player wields it, they can take comfort in the bat's resistance to negative vibrations. This model's upgraded AV2 anti-vibration knob, as well as the micro-perforated grip, prevents hand stinging or discomfort.
We found the bat easy to control, and hits were easy to execute. It has a drop weight of -10, so the feel is a little hefty.
However, the bat's other characteristics work well with its drop weight, leading to an effective, power-packed game.
Pros
Advanced Barrel Construction
Strongest Aluminum Bat in Marucci's line
Negative Feedback Resistant
Cons
Drop -10 Could Be Slightly Challenging
3. DeMarini 2022 Voodoo One USA Baseball Bat

| RATING | CHECK PRICE ON: |
| --- | --- |
| | |
If you want a bat with swing speeds second to none, then this is the one for you. DeMarini's Voodoo One series already credits itself for a steady, balanced construction that boosts speed and pops to optimal levels.
The latest youth model improves upon its reputation with smart alterations to the end cap. This deserves a spot as one of the best USA bats around.
Review
This bat is made for speed. Young players can expect an easy, light feel in hand. The bat is a breeze to manipulate due to its design.
It is a one-piece, made with quality alloy designed for the bat's longevity and reliable pop. The grade of alloy used is light, so the bat can whip through the air with the utmost ease.
The major update is the new ReAction End Cap. The end cap is made of lighter and more resilient materials, contributing to higher bat speed. It couples well with the available drop weights, improving upon the performance of its 2021 predecessor.
Drop weights of -10 and -9 are great for practiced power-hitters, but without other alterations to complement the weight, this bat would lose speed and pop. Luckily, this model combines power, precision, and speed for the wielder.
We found the barrel's sweet spot and felt the combination for ourselves. We did notice that this barrel is a little shorter than other DeMarini Voodoo models, so the sweet spot's size is limited.
Even so, with proper maneuvering and a skilled player up to bat, this Voodoo One is absolutely worth your time.
Pros
Incredible Swing Speed
Sturdy and Light Construction
Cons
Shorter Barrel, More Concentrated Sweet Spot
4. Rawlings 2022 5150 USA Baseball Bat

| RATING | CHECK PRICE ON: |
| --- | --- |
| | |
The Rawlings 5150 is a classic one-piece aluminum bat. The 2022 model maintains and surpasses its storied reputation.
Players can expect a high swing speed, a traditional, balanced feel in hand, and durable barrel construction with impeccable pop. The performance of this bat is nothing less than top-tier.
Review
This bat is designed for peak responsiveness. An airy swing weight, in tandem with a drop weight of -11, makes it very user-friendly for the USA bat-level player. The barrel is also larger to extend the sweet spot.
After testing it ourselves, we expect a practiced player to get an effective hit with almost every swing.
The bat combines a speed-enhancing endcap with the new and improved Rawlings PoP 2.0 technology for maximum pop quality and consistency.
The 5150 will last a long time since its namesake is based on the 5150 aircraft-grade alloy. The barrel is not end-loaded, instead opting for a slimmer, more balanced build.
Balance is important for maximizing aluminum construction, as even a natural heavy-hitter would have a harder time with an unbalanced aluminum bat.
This aluminum one-piece bat does have a small caveat—the occasional vibrations that a two-piece construction would nullify better. However, this bat's shock absorption is far above average, with very little hand-stinging reported.
The few vibrations felt will disappear as your kid gets used to the sweet spot of this bat.
Pros
Balanced, Sturdy Construction
Extended Sweet Spot
Reliable Pop
Cons
Mild Vibrating from Mishits
5. Louisville Slugger 2022 Select USA Baseball Bat
| RATING | CHECK PRICE ON: |
| --- | --- |
| | |
This Louisville Slugger model is a powerhouse with many coveted qualities. This bat will never fail its owner.
The bat has a balanced and firm swing weight, an incredibly strong hybrid construction, a comfortable, feedback-repelling handle, and a lightweight end cap.
Review
This bat is a three-piece, dual-material jet-setter. With the Louisville Slugger Select, a young player receives the best of what all-composite, all-aluminum, as well as multi-piece bats can give.
The first thing we noticed was the comfortable, textured grip. The connection from hands to handle is so strong, the bat becomes an extension of the player.
This is due to the LS Pro Comfort grip, designed to make vibrations disappear. The grip surrounds a carbon fiber composite handle, which the Vibration Control Connection System joins with an all-alloy barrel and composite endcap.
There is very little negative feedback on impact, despite the alloy barrel, because the composite handle dissipates it. On the other hand, the wear and tear that an all-composite bat takes are significantly lessened when you have a durable, alloy barrel.
We could tell just by holding it that the ST 7U1+ aluminum alloy of this model has excellent staying power and hitting power. The crack of a ball against this barrel seems to echo across the diamond.
The swing weight and speed of this bat are perfect for skilled players. The balance of the bat is aided by the light Speed Ballistic Composite endcap.
It is another bat that wonderfully combines power, balance, and speed.
An alloy bat has a smaller sweet spot than composite barrels. However, for practiced players who find their sweet spot, this model has the best pop you could ask for.
Pros
Quality Three-piece Construction
Excellent Composite Handle
Powerful Alloy Barrel
Overall Strong and Balanced Feel
Cons
Our apologies if you found this post unhelpful.
How can it be improved? Your feedback is important to us!