Are you in the market for a new baseball bat for your child? If so, you're likely wondering which is the best youth baseball bat to choose. There are lots of different factors to consider when shopping for a youth bat, from the size and weight of the bat to its price point. In this blog post, we'll take a look at some of the best youth bats on the market today and offer our recommendations based on the player type and budget. So whether you're looking for an affordable option or a top-of-the-line model, we've got you covered! Stay tuned for our top picks.
Best Youth Baseball Bats in 2023
How to Choose a Youth Bat
For something that looks so simple, there sure are a lot of things to take into consideration before purchasing one of our carefully chosen youth bats. You need to consider the batter's size and weight and whether power or contact is the focus. Different leagues also have their own rules, and a youth bat allowed in one might not be permitted in another.
Price is another huge factor for people buying youth bats. Price didn't play much of a role in my selection process, but I tried to provide a variety of choices for all needs. Since the costs can fluctuate, I didn't include them here, but you can click through on anything that interests you to see what it's selling for at the moment.
Length, Weight, and Drop
"Drop" is a term you might not be familiar with, but it's crucial to understand when picking out a youth baseball bat. It only takes a simple calculation to find a youth bat's drop rating. It's the difference between the bat's length in inches and the bat's weight in ounces. For example, a 28-inch bat that weighs 18 ounces has a drop of -10.
The first reason you need to pay attention to dropping is that it will make a significant impact on performance. The bigger the drop, the lighter the bat compared to length. Lighter baseball bats are much more comfortable to control and, therefore, easier to make contact with the baseball.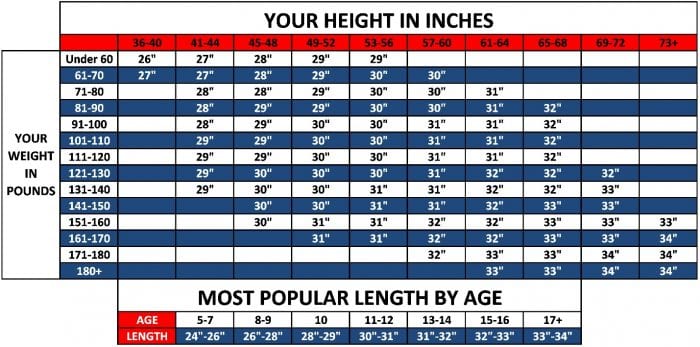 Higher drops are also great for speed, but you end up sacrificing power. For kids just starting out, power isn't something to be concerned about, so go for a large drop. Youth bats generally range from -13 to -5, with the most common between -12 and -8. You'll usually start using a smaller drop as you get older, and -5 is mostly used in getting ready to transition to high school and college ball, where drops cannot go below -3.
The length of the baseball bat largely depends on the height and weight of the person using it. There are charts you can follow to get a baseline, and from there, you can adjust based on preference. Weight works the same, but there is also a simple trick you can try. Hold the baseball bat as you usually would, and then let go with your top hand and use it to grab the wrist of the hand holding the bat. Now, take a swing. If you have trouble keeping it steady, it's too heavy.
League Rules
All of the different divisions within the Little League have their own set of restrictions. It's mostly restrictions on length. Tee-ball is capped at 26," and the minor league division is limited to 33". Make sure to check your specific requirements.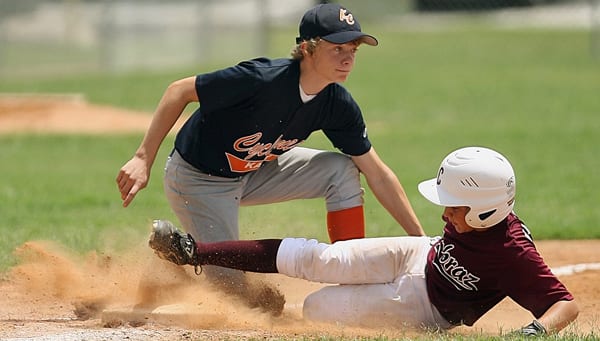 USSSA rules are a little more relaxed, so bats approved for USSSA are not necessarily accepted in USA Baseball Leagues, but all USA Approved bats can be used in USSSA. The most obvious difference is that USSSA allows a larger barrel size. You can use a bat with a barrel of up to 2 3/4".
The BPF (Bat Performance Factor) is the measurement USSSA uses to determine the trampoline effect of a baseball bat. The trampoline effect refers to how fast the ball bounces off of the bat. All approved bats must meet a BPF of 1.15.
USSSA bats are designed for higher performance and excitement. USA Baseball bats are meant to keep the integrity of the game by lowering bat performance and focusing on the ability of the players.
Our pick of the best youth baseball bats takes into account the multitude of league rules out there, so you're sure to find one that's approved for use in your kids' league.
Bat Construction
There is a wide range of materials and manufacturing techniques used by all of the various best youth bat brands, and they each have their advantages and disadvantages. They use different materials, separate pieces, and even different-shaped handles. It can be tough to wrap your head around all of this, but I'll try to simplify the information as much as possible.
Aluminum Bats
Metal, more specifically aluminum alloy, is what probably comes to many peoples' minds when they think of traditional youth bats. Aluminum bats are still widely used today and are built to be light to allow for maximum swing speed. Swing speed is especially vital with aluminum bats because they don't offer as much of a "pop" as other materials. Aluminum baseball bats are ideal for players just starting because you're able to control them more easily during a swing.
Wood Bats
Wood bats have quite a weak pop as well. It's even lower than the pop of aluminum bats. They're also heavier to swing and require more dedication to use effectively. Wood bats require commitment. They're often disregarded because they don't offer any competitive advantage and are just generally harder to use effectively.
The reason why I think players should start using wood bats at an early age is that they make you a better hitter in the long run. Learn to hit with a wood bat, and you can hit with any baseball bat. If you try to learn with another type of bat, you'll struggle with wood. Wood is excellent for practicing because it's very durable and will make other bats easier to swing in-game.
Composite Bats
Composite bats are generally made of carbon fiber polymer and provide the most trampoline effect of any type of bat. They are also the lightest, even lighter than aluminum, and are typically more durable, too. Aluminum bats are prone to denting, but composite bats are much more resistant to that type of damage.
The other significant advantage of composite bats is that they have a larger sweet spot than other bats.  A big sweet spot means you'll achieve decent power even if you don't make contact with the best part of the bat. Vibration is also reduced, so you won't get that stinging feeling in your hands.
The downside to composite bats starts with the break-in period. Composite bats don't have their full potential unlocked from day one; they need hundreds of hits to break them in. Be sure to rotate the bat slightly after every hit, so it gets broken in evenly.
Composite also becomes susceptible to cracking in cold weather. That's not usually a problem with a summer sport, but it can be an issue if you start playing very early in the spring or late in the fall. The risk is even higher in the northern states.
Composite bats are the most expensive bats, but a good one is worth the price, and they are often featured in the best youth baseball bats available each year.
Two-Piece and Hybrid Bats
Two-piece bats consist of a handle and a barrel that are connected in such a way that they allow flex and reduced vibration. The flex creates a whip effect for more bat speed, and the lower vibration makes them more comfortable to use.
Hybrid bats are a type of two-piece bat that uses two different materials for the handle and barrel. The most common hybrid bats have a composite handle and an aluminum barrel. What this does is make the handle lighter, meaning the bat can have a longer barrel compared to a solid aluminum bat of the same weight. A longer barrel means it's easier to make contact and offers a more prominent sweet spot.
Hybrid bats are easier on your wallet, as well. They're not quite as cheap as solid aluminum bats, but they're considerably less expensive than full composite bats. They are an excellent compromise if you want a high-performance bat without breaking the bank.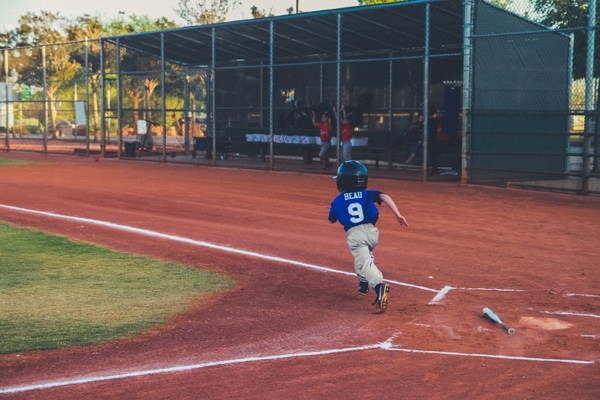 Weight Distribution
Aside from materials, another thing you need to pay attention to is weight distribution. The two choices are end-loaded or balanced. Most youth bats are balanced because they're easier to swing and control. End-loaded bats take more strength to get your swing speed up. If you're capable of swinging them with force, they provide extra momentum, which continues throughout the swing and follow through. The result is more powerful hits. I recommend that only experienced hitters attempt to use an end-loaded baseball bat.
Other Considerations
The bat handle is something often overlooked, but it can have an effect on comfort and performance. A thinner handle lets you have more precise control over the bat's movements. A thicker handle absorbs more shock and is easier on the hands.
Just like most other parts of a bat, the knobs can vary as well. A standard knob is flat and provides an anchor, so the bat doesn't fly out of your hands, and a tapered knob makes the base a bit wider, so it feels more natural in your hand.
Our selections take all of the above factors into account, which makes them some of the best youth baseball bats you will find.
Axe Handles
Axe Handles are becoming more popular these days, and a couple of them make our best youth baseball bats list, but only two manufacturers can legally produce them, Axebat and Victus. Axebat created the Axe Handle and patented it. Victus manufactures Axe Handle bats under license. Axe Handles are designed to fit the natural shape of your hands and to create the maximum bat swing possible. It makes a lot of sense when you think about it. Actual ax handles are shaped the way they are for a reason.
The Best Youth Baseball Bats Of 2022
Now that you have a rough idea of what sort of bat you may be looking for, it's time to take a closer look at what we consider to be the top 10 best youth baseball bats on the market in 2022.
The most popular and best-quality brands currently in the best baseball youth bat market, in my opinion, are Easton, Rawlings, Louisville Slugger, and DeMarini. If you choose a bat below from one of these brands, you're getting your money's worth.
I tried to pick a balanced variety of the best youth baseball bats to suit any age, size, and skill level. A lot of bats have unique features that give them an advantage in one area or another.
Some hitters value contact, while others want to see the ball fly as far as possible, even if it means a few more whiffs. Whatever you're looking for in a bat, you've come to the right place. You won't find a more complete list on the web.
1. Louisville Slugger 2020 Prime

| RATING | CHECK PRICE ON: |
| --- | --- |
| | |
The Louisville Slugger 2020 Prime USA baseball bat makes quite a statement. When the opposition sees you stepping up to the plate wielding this thing, they know you mean business. It's designed from the ground up to be a hitter's best friend.
It uses Louisville Slugger's proprietary technology, AVC Microform composite, to create a barrel with an above-average sweet spot and a perfectly balanced weight. The SBC Turbine Composite End Cap provides the Louisville Slugger 2020 Prime USA bat with increased barrel length for improved contact. The cap also works with the hitter's movements to optimize swing speed.
It features a 2 5/8" barrel, the maximum allowed under USA rules. The barrel diameter, along with a drop -10 ratio, keeps you in complete control while standing in the box.
The VCX Connection System is a patented technique for connecting the barrel and handle together to all but eliminate hand-stinging vibrations. Any vibration that does manage to get through just ends up further dampened by the LS PRO Comfort Grip.
The grip has the perfect amount of tac, so the bat stays planted firmly in your hands, and excellent cushion to let you keep swinging all day long. Without a doubt one of the best youth baseball bats around right now.
2. Rawlings 2020 Quatro Pro

| RATING | CHECK PRICE ON: |
| --- | --- |
| | |
We have an extra-detailed review available for this baseball bat!
Check out our Rawlings 2020 Quatro Pro review.
Choose your own weight with the Rawlings 2020 Quatro Pro youth bat. Available in a variety of lengths with your choice of drop -12, drop -10, or drop -8, this impressive piece of equipment is sure to please even the pickiest of hitters.
Opt for the drop -8 to achieve more power out of every swing. The heavier weight will make it harder for some players to control, but those who already get the most out of lighter bats will welcome the extra punch. Choose the drop -12 to limit strike-outs and to make the most out of every plate appearance
Built-in vibration reduction keeps you hitting bombs all day without wearing out your hands. That is mostly due to the 2-piece technology offering a dampening flex that remains stiff enough for a solid swing.
The Quattro Pro is made out of carbon fiber composite, which means it will last for a long time if you take care of it. Another exciting design technique is the multi-disc system that reinforces the barrel from top to bottom. You get more pop with every swing, and its unique sound lets you know when you square one up.
3. DeMarini 2020 CF Zen

| RATING | CHECK PRICE ON: |
| --- | --- |
| | |
We have an extra-detailed review available for this baseball bat!
Check out our DeMarini 2020 CF Zen review.
If you're a player in USSSA, you'll have a tough time finding a better bat than this one. The DeMarini 2020 CF Zen USSSA bat is, without a doubt, one of the best youth baseball bats available and takes the barrel size to the limit, measuring a maximum of 2 3/4". It's meant to produce exciting hits more often. The composite construction adds to the excitement by offering maximum performance while adhering to league rules.
The 2-piece design, along with the X-Lite knob, protects your hands from painful vibrations. The ReAction end cap creates even more swing speed and works perfectly alongside the lightweight composite body.
It's a treat to swing such a light bat that's also this massive in size. Most youth bats need to sacrifice swing speed in exchange for increased pop, but the DeMarini CF Zen USSSA handles both brilliantly. Just be absolutely sure you won't be switching to a USA rules league shortly after purchasing this bat.
4. Marucci 2020 CAT -10

| RATING | CHECK PRICE ON: |
| --- | --- |
| | |
Marucci has become a legendary name in the world of bat makers. There's a reason they're one of the top brands used in the majors. That same high quality spans their entire line-up, including some of the best youth baseball bats that money can buy.
The Marucci CAT -10 USA is crafted with AZ105 aluminum alloy, which is the strongest available in any Marucci bat. The additional strength allows for a thinner barrel wall, resulting in extra pop and an enlarged sweet spot.
The bat features a 2 1/2" barrel, which is somewhat rare in the world of youth bats. Most opt for the largest allowed (2 5/8") or the old standard from before the rules changed (2 1/4"). The 2 1/2" barrel generally provides reduced weight compared to other bats of the same length with a bigger barrel.
In addition to being a powerful weapon on game day, it works incredibly well as a practice bat. The extra control helps you make solid contact even with the smaller barrel. It will help you fine-tune your swing, so you don't have to rely on the bigger size to get you through.
5. DeMarini 2020 Voodoo

| RATING | CHECK PRICE ON: |
| --- | --- |
| | |
If your kid wants to stand out from the crowd, then check the design on this youth bat out! The DeMarini 2020 Voodoo is available in -10 and -5, with one choice of -9 because of requirements in the manufacturing process for the shortest bat.
DeMarini is often associated with being one of the best youth baseball bat brands around, and Voodoo backs that opinion up tenfold. It consists of a 2-piece, half-and-half design, with a composite handle and an X14 alloy barrel.
The composite handle does wonders for improving your acceleration through the zone, while the X14 alloy provides all the spring you need to keep the base hits coming. The patented ReAction end cap helps keep the weight down to keep the bat speed up.
It is approved for all USA-governed leagues, which means it's also allowed in the USSSA. The 2 5/8" barrel gets the bat to the ball more often for a more connected sweet spot and a more significant offensive impact throughout the game. All of those hits will benefit from vibration reduction. Limited vibration is not exactly an uncommon feature in modern bats, but its presence here is still very much appreciated.
If you need a little extra brute force, try the drop -5 baseball bat. The extra weight will slow you down if you're not used to it, but if you have the strength and determination, you'll be sure to turn some heads. Drop -5 is generally recommended for older kids to smooth the transition to BBCOR leagues.
6. Easton 2020 Typhoon -12
| RATING | CHECK PRICE ON: |
| --- | --- |
| | |
You don't see too many 2 1/4" barrels since the rules have changed, but something is satisfying about connecting for a solid hit on a smaller barrel. The drop -12 weight ratio combined with the short barrel provides unmatched accuracy.
It's made of single-piece ALX100 military-grade aluminum alloy for ultra durability. The concave end cap helps further reduce the bat weight, and the flex grip keeps the hand stinging to a minimum. The Easton Typhoon doesn't have much in the way of fancy technology aside from the ALX100 aluminum, but it's an excellent bat that is perfect for beginners.
It won't break the bank, and it will last for years to come, making it one of the best youth baseball bats when it comes to value for money. You might not get the longest hits out of it, but it's one of the easiest bats to swing, and that's the most important thing until you build up more experience.
7. Louisville Slugger 2020 Solo SPD

| RATING | CHECK PRICE ON: |
| --- | --- |
| | |
This bat is built for one thing and one thing only – speed. The drop -13 weight is all the proof you need. I challenge you to find a lighter bat that you can swing faster. I certainly haven't found one, and I'm not sure one even exists. If you're looking for the lightest bat out there, this is the best youth baseball bat you will find for weight.
Surprisingly, it's not made of composite material. It's actually made of SL Hyper alloy. The SL stands for 'superlight,' and it's this technology that allows an alloy bat to reach an incredible drop of -13. The Speed Ballistic Composite (SBC) end cap takes its acceleration to another level while giving the hitter even more control through the duration of the swing.
A big and robust hitter might not benefit as much from this bat as someone with a smaller stature. For most youth baseball batters, though, the improved speed and control will start producing results from the very first plate appearance.
8. Axe 2020 Avenge Tee Ball

| RATING | CHECK PRICE ON: |
| --- | --- |
| | |
Teeball is the beginning of the youth baseball journey for most young players. It only makes sense to include a bat that's guaranteed to help you get off to a great start. Axebat's 2020 Avenge Tee Ball bat is one of the best youth bats in this category and is designed to promote proper swing mechanics by just swinging the bat naturally.
The Axe Handle improves hand positioning and keeps swings smooth and straight. The unique shape also works with your wrist movement to generate more speed along with that level swing. Getting a feel for solid hits time and time again will go a long way in developing the skills needed to go far in this sport.
The Axe 2020 Avenge does not stop there. The Performance LP1 Alloy maximizes pop from day one. The HyperWhip End Cap shaves off excess weight to maximize swing speed. The end cap also allows a larger barrel with a bigger sweet spot.
As I stated earlier, this bat's focus is contact. What the 2 1/4" barrel proves is that it's not concerned about just any contact, it's about effective contact. Learning to hit with a small barrel right off the bat (pun intended) teaches a young hitter how to connect with the ball the right way. These moments will come in handy when using bigger barrels in higher leagues.
9. Victus YI13 Maple

| RATING | CHECK PRICE ON: |
| --- | --- |
| | |
The Victus YI13 is not for the faint of heart. I recommend only older kids attempt to take this stick into battle. The barrel is small at 2 1/4," and it's crafted with heavy maple wood; most, if not all, of the best youth bats that are wooden will be made from this material. On top of all that, it has a slightly end-loaded weight distribution, making it harder to swing.
There are so many other lighter and bigger bats out there. All of them are filled to the brim with specialized technology to make the bat do all the work for you. If you really want to unlock the upper limits of your talent, you need to take matters into your own hands. Everything you do with this bat is a direct representation of the skills you possess. The end-loaded barrel will help give you a little extra distance, but only if you can swing it comfortably.
I know it sounds like I'm giving you reasons to avoid the YI13, but I'm actually explaining why it's a perfect choice for the end of your youth baseball career. If you want the fantastic sport of baseball to continue to be a part of your life, you can't rely on performance gimmicks forever. Learning to go back to basics will better prepare you for the future.
Final Thoughts
I know just how difficult it can be to pinpoint the best youth bats of 2020. It wasn't easy putting this list together, but it was worth it if it helps young ballplayers get the most out of this great game. You really can't go wrong with anything listed here. It doesn't matter if you've been playing for years or you're looking to purchase your child's very first baseball bat.
After all this talk about skill and performance, there's one thing we all need to remember. Youth baseball is not the MLB, and we shouldn't treat it like it is. Whatever happens on the field, the only thing that matters is that the players have fun. That's why the game of baseball was invented, and that's why it remains so popular to this day.
Our apologies if you found this post unhelpful.
How can it be improved? Your feedback is important to us!