So, you want to play like the big boys, huh? You haven't proven anything until you proved it with one of the best wood bats. Metal bats are the most common type used outside of professional leagues, but that tinny ping just can't compare to the crack of an authentic wood baseball bat. Man, it sounds so good.
The sense of accomplishment you feel when you drive one over the fence with a wooden bat is like no other. It doesn't matter if you're in the little leagues, high school, or the men's league that plays on weekends; wood bats are for everyone and something every ballplayer should experience. This guide will help you acquire one of the best wood bats available.
Firstly, you may be interested in watching this video from How It's Made, showing you exactly how they get made from start to finish.
Best Wood Bats Comparison Table
| BAT | RATING | PRICE |
| --- | --- | --- |
| Louisville Slugger MLB Prime | | |
| Mizuno Bamboo Elite | | |
| Marucci JB19 Pro | | |
| Marucci AP5 Pro | | |
| Baum AAA Pro | | |
| Victus Pro Reserve FT23 | | |
| Victus X50 Pro Reserve Axe | | |
| Old Hickory KG1 Maple | | |
| Rawlings Big Stick Ash | | |
| Rawlings Big Stick Birch | | |
Types Of Wood
Several different types of wood are used to make bats. There is no single "best" baseball bats wood. If there was, that would be the only kind anyone makes. There are certainly more popular varieties, but it ultimately comes down to what exactly you're looking for in a wood bat.
Whether you want something with the most pop, the toughest durability, the lightest weight, or the fastest swing, it all makes a difference with the kind of wood you need. It's the very first thing you should consider when you've decided to purchase a wood bat.
Ash
Ash was once the most popular choice of wood for bats over several decades. It's not as dominant as it once was, having been overtaken by maple, but it's still in high demand.
Ash is considered to be a very balanced and well-rounded material to use for wood bats. It has some flexibility, which allows the batter to "whip" the bat through the air to create more speed through the zone. It's also reasonably lightweight, which is another important factor for those looking to maximize bat speed. Ash is perfect for contact hitters because it's weight and speed grant you a tremendous amount of control.
The downside to ash bats is their durability. The wood itself is durable, but the weak spot is along the grain. They will still last a long time if used properly, however. The logo on ash wood bats is crucial. Anyone who uses an ash bat needs to be aware of the "logo up" rule. Logos are placed in such a way that when they face up during a swing, the ball will strike the "edge grain" which is the strongest part of the bat. If the ball hits an ash wood bat on the face grain (logo forward), it has a higher probability of splintering.
Bamboo
The first thing to mention about bamboo wood bats is that they're not eligible for play in the MLB. Bamboo is technically a grass, not a wood, but that doesn't appear to be the primary reason they are not allowed. The MLB has a rule which states that all wood bats must be made from a single piece of wood. Bamboo bats are made from several strips fused together.
There are still plenty of reasons to pick up a bamboo wood bat, though. First, it's unbelievably durable. Its tensile strength is even greater than that of steel, and it holds up to repeated impact exceptionally well. Bamboo's durability makes it a top choice for practice bats because you don't have to worry about breaking a game wood bat.
Bamboo is one of the lightest wooden bats you can get, making it one of the easiest to control during your swing, and also one of the fastest.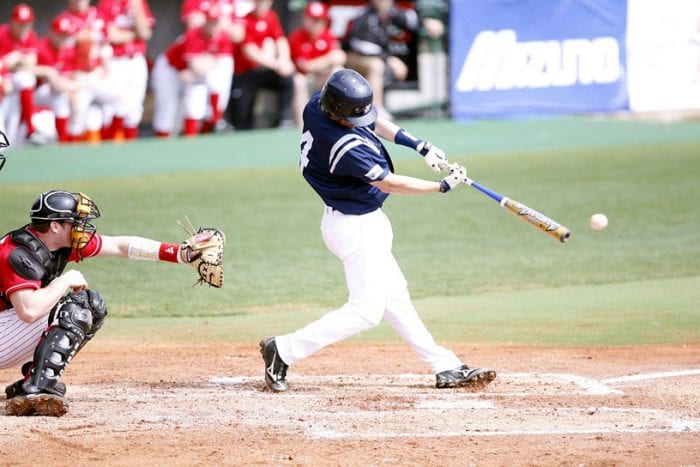 Birch
Birch wood bats include many of the positive features seen in ash and maple. They're very hard like maple and have flex just below that of ash. It's even a little bit lighter than maple. Birch has recently become the second most popular choice among pros because of this.
The more you hit with a birch wood bat, the harder it becomes. Some refer to this as a "break-in" period and can be considered an advantage or disadvantage depending on how you look at it. You don't get its full potential on the first hit, but it will become a better bat over time. It also tends to last longer without breaking than both birch and maple.
Composite
Composite wooden bats are not legal for professional use because they are not made from a single piece of wood. These bats commonly use wood shavings or dust combined with glue and plastic to form the finished product. You can still use them in most high school and college leagues as long as they're BBCOR certified. BBCOR simple means the "trampoline effect" is regulated to ensure the ball speed off the bat stays at a reasonable level.
Composite wood bats are a popular choice in BBCOR leagues because they're more durable than wood and lighter than aluminum. Reduced vibration to combat hand sting is another considerable advantage of these bats. As with bamboo, composite wood bats work well for practice because they're so hard to break. Just don't use them in freezing cold weather, or they'll be prone to cracking.
Hickory
Hickory was the most popular wood bat in the early days of baseball. Its use began to drop off when players and teams began to pay more attention to bat speed. Hickory is an exceptionally heavy wood and therefore very slow through the zone. Flex is also non-existent, which only adds to hickory's obsolescence.
Hickory wood bats still have a nice pop to them, and it could be worth a look, especially if you have a muscular build to help get the bat around in a hurry.
Maple
Maple is the most widely used baseball bat wood, at least at the pro level. You will typically find that a lot of the best wood bats going forward fall under the Maple wood bat category.
Low estimates place maple usage at 70% among MLB players. It's one of the hardest of all bat woods meaning it's also one of the heaviest. It might not be the optimal choice for a beginner because the weight makes it a bit harder to control, and the "sweet spot" is a lot smaller than other types of wood. Maple is also very stiff and has no flex, making ideal bat speed harder to achieve.
With that said, it has the most "pop." Balls fly off of maple faster and further than anything else. A solidly hit ball off a maple wood bat will travel fifteen feet more on average. That could be the difference between circling the bases and popping out. It's easy to see why it has become the dominant choice for the best wood bats in just a short amount of time.
Things To Consider When Choosing Your Wood Bat
Baseball players come in all shapes and sizes, and so do their bats. Body type is one of the primary factors in determining your ideal wood bat, but it's not everything. You need to consider your league rules, how much experience you have, what type of hitter you are, and what type of hitter you want to become when picking from the best wood bats.
Experience
If you're new to wooden bats or baseball in general, you'll want something that gives you the most control. A lighter wood with an even weight distribution will provide optimal conditions for you to make contact with the baseball. Ash is a good starting point, and if you're in a BBCOR league, bamboo or composite might be even better.
If you have a decent level of experience, try something a little heavier that gives more hitting power. Take it up a notch with end-loaded bats to watch the dingers fly. Be careful; if you're not used to heavy bats you might hear the ump yell "strike three!" more than you'd like to.
Weight
Your experience level isn't the only reason to take weight into consideration when choosing a wood bat; the type of hitter you are and want to become are also significant reasons. If you're an "on-base" kind of hitter, you'll want to make contact with the baseball as often as possible, and you'll want something that makes your job as easy as possible. Lighter weights get the bat to the ball quickly and easily. The weight should also be even throughout the length of the wood bat to ensure a smooth and crisp contact.
Again, if you're looking to send one over every time you step up to the plate, you'll want something weightier. Maple is the wood bat of choice for power hitters and the best wood bats are often made from this type of wood now. Having more of the weight toward the barrel end of the bat creates more momentum at the sweet spot.
Knob
A traditional knob is basically just a disc at the bottom of the handle. Its primary purpose is to keep the bat anchored solidly in your hands so it doesn't fly out of them and at someone else while swinging. While it works fine for this purpose, it's not the most comfortable thing in the world.
Tapered knobs are being adopted at a rapid pace because many players believe it feels more natural in your hand. It's difficult to explain in words, but it fills what can sometimes feel like a gap where your pinky and ring fingers wrap around the bat. It's mostly a comfort thing and won't affect your wood bat in many other ways except slightly increased control from providing a more solid grasp.
Handle
A traditional bat handle is round and gets progressively thinner the closer you get to the knob. The problem here is that human hands don't grip in a perfect circle. It takes more effort than you think to squeeze the bat solidly.
Axe Handles are becoming more common in the best wood bats out there, and it doesn't look like they'll be going away any time soon. They're designed to have an oval shape to fit the shape of your fingers as they bend. The backside of the handle is completely straight instead of tapered, giving you maximum contact with the inside of your hand. It takes less effort to grip the bad, and now you have more energy to put directly into your swing.
Finally, the knob is angled upward to allow your wrists to provide more speed your swing. The main disadvantage is there isn't as much of a knob to keep you from throwing the bat across the diamond. Currently, Axe Handle bats are only available from two manufacturers; Axe Bat, the inventors of the Axe Handle, and Victus, which produces the Axe Handle under license.
Barrel
The common consensus is that large barrel bats are better for power hitters and small barrel bats are better for contact hitters. The primary reason for this is that larger barrels create more weight at the end of the wood bat, which gives it more pop. The trade off is that it's harder to swing, especially accurately.
There are other variables about a wood bat that can make a larger barrel right for contact hitters as well. Things like a thicker handle and a cupped end help to balance the weight distribution, which can help make those big barrels a bit easier to swing.
Certification
There are two major certifications when it comes to wood baseball bats, BBCOR and ink dot. BBCOR (Batted Ball Coefficient of Restitution) is standard put into place to protect the safety of pitchers and also to keep competition fair. The technology is available to make a bat that shoots baseballs like a rocket off the barrel, but it was decided there needs to be a limit.
The trampoline effect of the bats are measured, and only BBCOR certified if it is below .50. Wood bats are only slightly below .50. A maximum drop of 3 is also required. The drop refers to the difference between the length and weight of the bat. If a bat is 32 inches and has a weight of 29 ounces, that's a drop 3. Maximum barrel size is 2 5/8 with a maximum length of 36 inches.
The ink dot certification is only applicable to maple and birch bats because their grain is difficult to see with the naked eye. A perfect wood bat will have perfectly parallel grain, and will only be allowed for professional play if the gran slope is 3 degrees or less. The ink follows the grain and allows the slope to be measured.
The ink dot is always placed about 12 inches up the handle because that's considered the weakest spot of the bat. It's it meets requirements, it's suitable for play. That's why you see that black dot on a lot of bats when watching MLB on TV.
If you're not in a super competitive league the dot test won't be required, but it's still a valuable indication of quality so you might want to opt for it anyway.
Length
Bat length is extremely important but often one of the last things to get talked about. Adult bats commonly range from 30-36 inches in length, but even pros rarely go above 34 inches. That's still quite a significant difference to just pick something at random. Your height and weight will be huge factors in determining your ideal bat length. Bat charts give a good idea of what you'll need.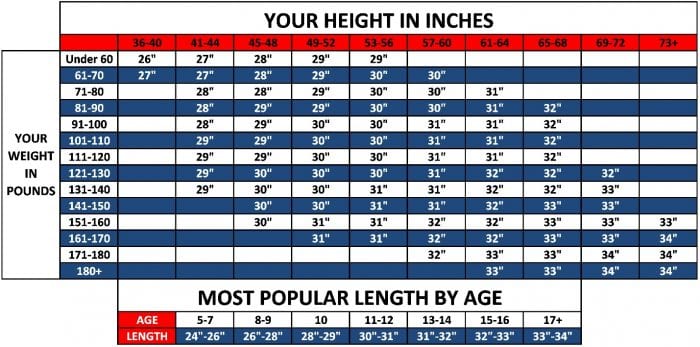 Your hitting style can also play a role. If you like to swing at outside pitches to defend two-strike counts, for example, you might want to experiment with the next size up.
The Top Best Wood Bats
I've put together a highly diverse list of the best wood bats for you to peruse. I believe there's something for just about everyone right here. All types of wood, BBCOR, multiple barrel sizes, bats used by the pros, you name it.
Now that you know what to look for, go ahead and see which one of the best wood bats in 2022 available calls your name.
1. Mizuno Bamboo Elite Wood Baseball Bat
| RATING | CHECK PRICE ON: |
| --- | --- |
| | |
The Mizuno Bamboo Elite MZE243 wood bat is BBCOR certified for use in high school and college leagues. Bamboo bats are already incredibly durable, but the MZE243 includes a fiberglass-wrapped handle to bump up the strength of the bat to a whole new level. The handle is also sanded to improve grip.
We already know bamboo is one of the lightest woods available for bats, so what about when you add a cupped end? Like a feather. That might be an over-exaggeration since it has one of the larger sized barrels, but it's much more manageable than a comparable maple bat.
The cherry finish makes this bat a flashy status symbol wherever it goes. The glossy finish makes the red shine so beautifully you won't want to use it; until you feel your first hit, then you'll be hooked. Without doubt one of the best wood bats on the market in 2021.
2. Louisville Slugger MLB Prime Wood Baseball Bat
| RATING | CHECK PRICE ON: |
| --- | --- |
| | |
Read our full, in-depth Louisville Slugger MLB Prime review.
The Louisville Slugger 2020 MLB Prime series bats use a 271 turn which usually means it would be very slightly end-loaded, but the cupped barrel helps get it back to perfect balance. It's great for power hitters to create a little extra bat speed, and also contact hitters who get the advantage of a shorter taper without the excess weight holding them back.
You can customize the bat yourself directly on Amazon. You have the choice of either ash, birch, or maple. This is the most critical decision, and it's great to have all of the top options. Continue by choosing your preferred length an color scheme to end up with a wood bat just for you.
All of the 2020 MLB Prime Series bats are coated with EXOPRO finish for a beautiful glossy sheen. The finish is incredibly hard, and the bat is bone-rubbed to provide as much strength as possible.
Anice touch is the medallion located on the bottom of the knob. It conveniently lists the type and quality of wood along with the length of the bat. The name of the bat and the date it was made are engraved in the wood along the outside edge of the medallion. Certainly another one of the best wood bats available this season.
3. Marucci JB19 Pro Wood Baseball Bat
| RATING | CHECK PRICE ON: |
| --- | --- |
| | |
Next up is a very balanced bat from one of baseball's most popular manufacturers. The Marucci JB19 Pro was developed according to the specifications of one of the great hitters in recent memory, Jose Bautista.
Crafted from the finest quality maple, the JB19 comes equipped with a traditional style knob, a medium-sized barrel, and a medium handle. It's designed to be a powerful weapon for a versatile hitter. It doesn't matter if you prefer to shoot liners into the gap or reach the second deck, this wood bat is capable of both.
It is bone-rubbed to get the wood as dense as possible for maximum power from day one. Appearance probably shouldn't be number one on your list of reasons to get a bat, but it's nice to have some style, and the walnut and whitewash color scheme is absolutely stunning.
This bat is also available in a youth size from Amazon.
4. Marucci AP5 Pro Wood Baseball Bat
| RATING | CHECK PRICE ON: |
| --- | --- |
| | |
The Marucci AP5 Pro is based on the specifications of Albert Pujols. Unlike the JB19 above, the AP5 is designed purely with power hitters in mind. It's made of maple, has a large barrel, and is end-loaded for a combination that's sure to impress onlookers while you crush.
The tapered knob and cupped barrel both help you regain some control, and the large sweet spot creates a lot of force on even miss-hit balls. The bone-rubbed treatment is included here as well, so you'll know you're getting the bat's full potential.
5. Baum AAA Pro Wood Baseball Bat
| RATING | CHECK PRICE ON: |
| --- | --- |
| | |
If you're in the market for a composite wood bat, Baum is right at the top. In fact, they're the original manufacturer of composite wood bats, dating back to 1993.
Baum composite wood bats are designed to feel and behave exactly like real wooden bats with one astronomical difference; they're 400 times more durable. They were designed with the same technology originally developed by the late Steve Baum to make racing boats faster and lighter.
The Baum Bat AAA Pro is BBCOR certified and perfect if you want to lots of practice and experience using wooden bats. Since it's virtually indestructible, you'll have the bat for many years to come without constantly pulling out your wallet for replacements.
6. Victus Pro Reserve FT23 Wood Baseball Bat
| RATING | CHECK PRICE ON: |
| --- | --- |
| | |
The Victus Pro Reserve FT23 is another maple bat worth serious consideration by anyone looking for quality. Victus is the second most widely used bat brand in the MLB, and for good reason. Victus is the pinnacle of fine craftsmanship, and that's why you see countless pros standing in the box with a Victus in hand.
The FT23 is modeled after the specs of Fernando Tatis, the guy that holds the single inning RBI record for the MLB. What's more impressive is how he did it; he hit twogrand slams in the same inning, something no one else has ever done. Anyway, the point of this biography is to point out that this guy clearly knows what he's doing when it comes to bats.
The bat itself boasts a large barrel and medium handle with the weight distributed slightly toward the end of the bat. The cupped end helps provide more balance, but it's still geared mostly toward those who hit for power. The flared knob will keep the bat secure when you swing it with all your might.
7. Victus X50 Pro Reserve Axe Wood Baseball Bat
| RATING | CHECK PRICE ON: |
| --- | --- |
| | |
The Victus Pro Reserve Axe Handle bat is the result of a licensing agreement between Axe Bat and Victus. Axe Bat created this revolutionary new type of handle and Victus, one of the most used brands by pros, is the reason it's becoming mainstream. Quite a genius business deal by both parties.
This particular model has an end-loaded feel and a large barrel. Pair that with the Axe Handle and you've got a pitcher's worst nightmare. It's already built for absolute power, and the Axe Handle allows you to take that power and speed it up, all while providing more control than ever.
The great Mookie Betts of the Boston Redsox uses a model very similar to the X50 Pro Reserve, and we all know what he can do with a bat. The guy has a career .300+ batting average for crying out loud. If that's not proof right there, nothing is.
8. Old Hickory KG1 Maple Wood Baseball Bat
| RATING | CHECK PRICE ON: |
| --- | --- |
| | |
The Old Hickory KG1 Maple bat is designed according to the specifications of Yasiel Puig. The bat sports a medium-sized handle and a medium/large barrel size. The barrel on this particular model is exceptionally long, which gives it a large sweet spot.
The KG1 is very balanced despite the larger-than-average barrel. This is partly because the barrel is so long and extends so far down the bat, bringing its weight with it. The cupped end and thick handle do the rest of the work to make sure the bat feels smooth to swing.
The tapered know provides additional comfort and control, while the long barrel increases the sweet spot to make the KG1 a solid choice for both power hitters and contact hitters alike.
9. Rawlings Big Stick 318 Ash Wood Baseball Bat
| RATING | CHECK PRICE ON: |
| --- | --- |
| | |
The Rawlings Big Stick 318 ash bat is a power hitters dream. It has a larger-than-average barrel size, a very skinny handle, and most of its weight is distributed at the end of the bat. You'll need to have a lot of strength to use this bat effectively.
Even with maple taking the number one spot in the hearts of many power hitters, an ash bat combined with a heavy barrel create an impressive one-two punch. The flexibility of ash allows you to whip the heavy barrel through the zone, providing tremendous bat-head speed as long as you have the muscle to do so.
The larger barrel also means a bigger sweet spot which helps compensate for the slightly reduced control cause by the heavier bat end.
10. Rawlings Big Stick Birch Wood Baseball Bat
| RATING | CHECK PRICE ON: |
| --- | --- |
| | |
The Rawlings Birch Big Stick is another bat that power hitters will be instantly attracted to. It has similar specs to the Marucci AP5 except the taper from the handle to the barrel is much more extreme, meaning the barrel holds even more of the bat's overall weight.
Just like many other end-loaded bats these days, the barrel is cupped in an attempt to balance out the weight as much as possible to provide a controllable swing. It still is not recommended for beginners or those with a smaller stature.
The power-hitting specs in a birch bat give you the best of both worlds. Birch is hard and creates high exit velocity, but it's also flexible to prevent the weight from slowing the bat down to a snail's pace. It will also last for quite a long time if you take care of it.
Bat Maintenance
A clean bat is a happy bat. Your wood bat will touch a lot of dirt in a day, and those little particles will stick to it like glue and start to scratch, dig, and embed. Wiping your bat with alcohol after use will remove all of those particles. Also, the cleaner the handle, the better your grip.
Always keep your bat hanging by its handle and away from areas where it might get bumped into or knocked around. Any unnecessary dings or scratches will reduce the lifespan of your bat.
Bone-rubbing doesn't just have to be done by the manufacturer, you can do it too. If your bat gets dented up from contact with baseballs, smooth them out with a smooth piece of bone. Using another wooden bat will work as well if you have no other option.
Avoid getting your bat wet or subjecting it to extreme temperatures. Extreme prolonged heat can dry your bat out and make it brittle.
Final Words
You can probably see by now that a lot of thought needs to go into finding one of the best wood bats for you, but hopefully reading through this guide helped nudge you in the right direction. After all, that's why we put this together in the first place.
We're passionate about baseball, and wood bats are the heart and soul of the game. It doesn't matter your skill, age, or background, picking up a wood bat puts a smile on all of our faces.
It's crucial to remember the most important rule of all when it comes to finding the best wooden bats in 2022, or any bat – YOU GET WHAT YOU PAY FOR! Pick a bat, get outside and enjoy the game of baseball!