When it comes to finding the best wood bats, there are a lot of different factors to consider. The type of wood, the weight, and the size of the bat all play a role in how well you'll be able to hit the ball. You also need to find a bat that feels comfortable in your hands. So, whether you're in little league or an experienced adult player, read on to learn more about choosing the right wood bat!
Best Wood Baseball Bats in 2023: Our Top Picks
Best Wood Bat Overall (Adults)
Louisville Slugger MLB Prime
The Louisville Slugger MLB Prime is our top pick for adult players. This bat uses a 271 turn which usually means it would be very slightly end-loaded, but the cupped barrel helps get it back to perfect balance. It's great for power hitters to create a little extra bat speed and also contact hitters who get the advantage of a shorter taper without the excess weight holding them back.

You can customize the bat yourself directly on Amazon. You have the choice of either ash, birch, or maple. This is the most critical decision, and it's great to have all of the top options. Continue by choosing your preferred length and color scheme to end up with a wood bat just for you.
All of the MLB Prime Series bats are coated with EXOPRO finish for a beautiful glossy sheen. The finish is incredibly hard, and the bat is bone-rubbed to provide as much strength as possible.
A nice touch is a medallion located on the bottom of the knob. It conveniently lists the type and quality of wood along with the length of the bat. The name of the bat and the date it was made are engraved in the wood along the outside edge of the medallion. Certainly another one of the best wood bats available this season.
Click here to read more reviews and check the price.
Read our full, in-depth Louisville Slugger MLB Prime review.
Best Budget Wood Bat (Adults)
Louisville Slugger Series 3
The Louisville Slugger Genuine Series 3 bat is the perfect choice for players looking for a bat with a natural finish and increased flexibility.

This bat is made from genuine ash wood, which gives it a large sweet spot and lighter swing weight. The increased flexibility makes it easier to generate power, while the natural finish provides a classic look.
This budget-friendly option still offers great quality, so you can feel confident when taking to the plate.
This bat is also a great option for high school baseball.
Click here to read more reviews and check the price.
Best Wood Bat for Power Hitters
Marucci AP5 Pro Wood Baseball Bat
The Marucci AP5 Pro is based on the specifications of Albert Pujols. Unlike the JB19, the AP5 is designed purely with power hitters in mind.

It's made of maple, has a large barrel, and is end-loaded for a combination that's sure to impress onlookers while you crush.
The tapered knob and cupped barrel both help you regain some control, and the large sweet spot creates a lot of force on even miss-hit balls. The bone-rubbed treatment is included here as well, so you'll know you're getting the bat's full potential.
Click here to read more reviews and check the price.
Best Youth Wood Bat
Marucci AP5 Youth Wood Bat
The Marucci AP5 Youth baseball bat is our top pick for youth players and little leaguers. It's built for power with an end-loaded feel, and its large barrel gives you a huge sweet spot for producing those powerful hits. Plus, it's handcrafted from top-quality maple wood for durability and comes with a 30-day warranty.

So if you're looking for a bat that your young player will love, the Marucci AP5 Youth is the perfect choice.
Click here to read more reviews and check the price.
Best Budget Youth Wood Bat
Louisville Slugger Youth Wood Bat
The Louisville Slugger Youth Wood Bat is our top budget pick for youth players and little league. Looking for a dependable, affordable bat for your little slugger? Look no further than the Louisville Slugger Youth.

This bat is made of sturdy maple wood and has great surface hardness, making it less prone to flaking. Plus, with its balanced weight distribution, it provides great swing control for players of all levels.
This budget-priced bat won't quite have the same quality as more expensive options, but it'll get the job done. The wood might be a little rough, but that's all part of the character.
Get your little one started on the path to batting greatness with the Louisville Slugger Youth!
Click here to read more reviews and check the price.
Best Composite Wood Bat
Baum AAA Pro Composite Baseball Bat
If you're in the market for a composite wood bat, Baum is right at the top. In fact, they're the original manufacturer of composite wood bats, dating back to 1993.
Baum composite wood bats are designed to feel and behave exactly like real wooden bats, with one astronomical difference; they're 400 times more durable. They were designed with the same technology originally developed by the late Steve Baum to make racing boats faster and lighter.
The Baum Bat AAA Pro is BBCOR certified and perfect if you want to lots of practice and experience using wooden bats. Since it's virtually indestructible, you'll have the bat for many years to come without constantly pulling out your wallet for replacements.
Buyer's Guide
This buyer's guide is packed with information that will help you choose the best baseball bat for your needs. In this section, we'll take a look at the different types of wood bats available, as well as the pros and cons of each. We'll also discuss weight and length options and provide some tips on how to select the right bat for you.
Baseball players come in all shapes and sizes, and so do their bats. Body type is one of the primary factors in determining your ideal wood bat, but it's not everything. You need to consider your league rules, how much experience you have, what type of hitter you are, and what type of hitter you want to become when picking from the best wood bats.
Types Of Wood
Several different types of wood are used to make bats. There is no single "best" baseball bats wood. If there was, that would be the only kind anyone makes. There are certainly more popular varieties, but it ultimately comes down to what exactly you're looking for in a wood bat.
Whether you want something with the most pop, the toughest durability, the lightest weight, or the fastest swing, it all makes a difference with the kind of wood you need. It's the very first thing you should consider when you've decided to purchase a wood bat.
Ash: Ash was once the most popular choice of wood for bats over several decades. It's not as dominant as it once was, having been overtaken by maple, but it's still in high demand. Ash is a well-rounded material for wood bats because it has some flexibility and is lightweight. It's perfect for contact hitters. They are durable but have a weak spot along the grain; logos should be placed so that they strike the "edge grain" for maximum durability.
Bamboo: Bamboo is a strong and light wood that makes durable bats. Bamboo wood bats are not eligible for play in the MLB because they are made from several strips fused together, which is against the MLB's rule that all wood bats must be made from a single piece of wood.
Birch: Birch wood bats are a popular choice for baseball bats because they have the positive features of both ash and maple. The more you hit a birch wood bat, the harder it becomes.
Composite: Composite wood bats are a popular choice in BBCOR leagues because they're more durable than wood and lighter than aluminum while also reducing vibration to combat hand stings. Composite wooden bats are not legal for professional use because they are not made from a single piece of wood but can be used in most high school and college leagues.
Hickory: Hickory was a popular wood bat back in the day but is no longer in use because it is slow and has no flex. Hickory wood bats still have a nice pop to them, and it could be worth a look, especially if you have a muscular build to help get the bat around in a hurry. Hickory wood bats are still a good option for baseball players, especially those with a muscular build.
Maple: Maple is the most popular type of wood for baseball bats. It might not be the optimal choice for a beginner because the weight makes it a bit harder to control, and the "sweet spot" is a lot smaller than other types of wood. Maple is also very stiff and has no flex, making ideal bat speed harder to achieve. With that said, it has the most "pop." Balls fly off of maple faster and further than anything else. A solidly hit ball off a maple wood bat will travel fifteen feet more on average. That could be the difference between circling the bases and popping out. It's easy to see why it has become the dominant choice for the best wood bats in just a short amount of time.
Experience
If you're new to wooden bats or baseball in general, you'll want something that gives you the most control. A lighter wood with an even weight distribution will provide optimal conditions for you to make contact with the baseball. Ash is a good starting point, and if you're in a BBCOR league, bamboo or composite might be even better.
If you have a decent level of experience, try something a little heavier that gives more hitting power. Take it up a notch with end-loaded bats to watch the dingers fly. Be careful; if you're not used to heavy bats, you might hear the ump yell "strike three!" more than you'd like to.
Weight
Your experience level isn't the only reason to take weight into consideration when choosing a wood bat; the type of hitter you are and want to become are also significant reasons. If you're an "on-base" kind of hitter, you'll want to make contact with the baseball as often as possible, and you'll want something that makes your job as easy as possible. Lighter weights get the bat to the ball quickly and easily. The weight should also be even throughout the length of the wood bat to ensure smooth and crisp contact.
Again, if you're looking to send one over every time you step up to the plate, you'll want something weightier. Maple is the wood bat of choice for power hitters, and the best wood bats are often made from this type of wood now. Having more weight toward the barrel end of the bat creates more momentum at the sweet spot.
Knob
A traditional knob is basically just a disc at the bottom of the handle. Its primary purpose is to keep the bat anchored solidly in your hands, so it doesn't fly out of them and at someone else while swinging. While it works fine for this purpose, it's not the most comfortable thing in the world.
Tapered knobs are being adopted at a rapid pace because many players believe it feels more natural in your hand. It's difficult to explain in words, but it fills what can sometimes feel like a gap where your pinky and ring fingers wrap around the bat. It's mostly a comfort thing and won't affect your wood bat in many other ways except slightly increased control from providing a more solid grasp.
Handle
A traditional bat handle is round and gets progressively thinner the closer you get to the knob. The problem here is that human hands don't grip in a perfect circle. It takes more effort than you think to squeeze the bat solidly.
Axe Handles are becoming more common in the best wood bats out there, and it doesn't look like they'll be going away any time soon. They're designed to have an oval shape to fit the shape of your fingers as they bend. The backside of the handle is completely straight instead of tapered, giving you maximum contact with the inside of your hand. It takes less effort to grip the bad, and now you have more energy to put directly into your swing.
Finally, the knob is angled upward to allow your wrists to provide more speed to your swing. The main disadvantage is there isn't as much of a knob to keep you from throwing the bat across the diamond. Currently, Axe Handle bats are only available from two manufacturers; Axe Bat, the inventors of the Axe Handle, and Victus, which produces the Axe Handle under license.
Barrel
The common consensus is that large barrel bats are better for power hitters and small barrel bats are better for contact hitters. The primary reason for this is that larger barrels create more weight at the end of the wood bat, which gives it more pop. The trade-off is that it's harder to swing, especially accurately.
There are other variables about a wood bat that can make a larger barrel right for contact hitters as well. Things like a thicker handle and a cupped end help to balance the weight distribution, which can help make those big barrels a bit easier to swing.
Certification
There are two major certifications when it comes to wood baseball bats: BBCOR and ink dot. BBCOR (Batted Ball Coefficient of Restitution) is a standard put into place to protect the safety of pitchers and also to keep competition fair. The technology is available to make a bat that shoots baseballs like a rocket off the barrel, but it was decided there needed to be a limit.
The trampoline effect of the bats is measured, and only BBCOR certified if it is below .50. Wood bats are only slightly below .50. A maximum drop of 3 is also required. The drop refers to the difference between the length and weight of the bat. If a bat is 32 inches and has a weight of 29 ounces, that's a drop of 3. The maximum barrel size is 2 5/8, with a maximum length of 36 inches.
The ink dot certification is only applicable to maple and birch bats because their grain is difficult to see with the naked eye. A perfect wood bat will have perfectly parallel grain and will only be allowed for professional play if the grain slope is 3 degrees or less. The ink follows the grain and allows the slope to be measured.
The ink dot is always placed about 12 inches up the handle because that's considered the weakest spot of the bat. If it meets the requirements, it's suitable for play. That's why you see that black dot on a lot of bats when watching MLB on TV.
If you're not in a super competitive league, the dot test won't be required, but it's still a valuable indication of quality, so you might want to opt for it anyway.
Length
Bat length is extremely important but often one of the last things to get talked about. Adult bats commonly range from 30-36 inches in length, but even pros rarely go above 34 inches. That's still quite a significant difference from just picking something at random. Your height and weight will be huge factors in determining your ideal bat length. Bat charts give a good idea of what you'll need.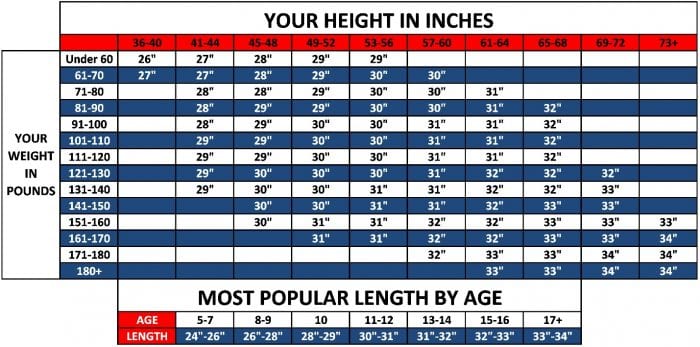 Your hitting style can also play a role. If you like to swing at outside pitches to defend two-strike counts, for example, you might want to experiment with the next size up.
FAQ
What is the best brand of wood bats?
The best brand of wood bats will vary depending on individual preferences. Some brands that are commonly considered to be among the best include Louisville Slugger and Marucci. Ultimately, it is important to select a bat that feels comfortable and balanced in your hands, as this will help you to make the most of your swings.
Which wood bats have the most pop?
Maple bats have the most pop because they are denser and harder than other types of wood bats.
Other types of wood bats, such as ash, are less dense, which makes them less durable and gives them less pop.
What type of wooden bats do the pros use?
Maple and ash are the two most common types of wood bats that pro baseball players use. Some players prefer maple bats because they can generate more power, while others prefer ash bats because they feel they provide a better contact surface for hitting the ball.
Final Words
You can probably see by now that a lot of thought needs to go into finding one of the best wood bats for you, but hopefully, reading through this guide helped nudge you in the right direction. After all, that's why we put this together in the first place.
We're passionate about baseball, and wood bats are the heart and soul of the game. It doesn't matter your skill, age, or background, picking up a wood bat puts a smile on all of our faces.
It's crucial to remember the most important rule of all when it comes to finding the best wooden bats in 2022, or any bat – YOU GET WHAT YOU PAY FOR! Pick a bat, get outside and enjoy the game of baseball!
Our apologies if you found this post unhelpful.
How can it be improved? Your feedback is important to us!