Fenway Park, home of the Boston Red Sox, is renowned for being one of the smallest ballparks in Major League Baseball. It's also the oldest baseball stadium still in use today. Its capacity has fluctuated throughout the years, but it currently seats just over 37,000 fans (37,755 for night games and 37,305 for day games). In this blog post, we'll take a look at Fenway's capacity and how it has changed over time.
Fenway's capacity has differed between day and night games since 2003, when the team installed a tarp that covers center field seats during day games. This reduced the capacity by about 450 seats.
Capacity by Seat Type
Let's take a closer look at Fenway Park's history of seats and standing room.
Dell Technologies and State Street Pavilion Clubs: 5,440 seats
The Dell Technologies and State Street Pavilion Clubs combined have 5,440 seats. If you're looking for the best way to experience Fenway Park, look no further than the Dell Technologies and State Street Pavilion Clubs. These club seats are located just above grandstand seating on the second level, providing guests with great views of Red Sox baseball. The seats are padded with extra legroom, fully covered and come with in-seat wait service, making them the perfect option for discerning guests.
Box Seats: 13,778 seats
The 13,778 box seats at Fenway are made up of field box and right field roof seating.
If you're looking for a more relaxed viewing experience, the Field Boxes at Fenway Park are a great option. These seats are located within 20 rows of the field, so you'll still be close to the action. But because they're not in the bleachers, you won't have to worry about being jostled by rowdy fans.
The Right Field Roof Boxes offer a great vantage point from down the first base line.
Grandstand: 11,562 seats
The Grandstand at Fenway has 11,562 seats. There are many positive aspects of the Grandstand seats that keep fans coming back year after year. One of the most appealing aspects of these seats is the view. From these seats, fans can see everything that is happening on the field while also getting a great glimpse of downtown Boston. In addition, these seats offer protection from both rain and sun, which is not something that all seats at Fenway can say.
Of course, there are also some downsides to choosing Grandstand tickets. One potential issue is that these seats can be more obstructed than other options in Fenway Park. This is due to support poles that are located throughout the section. As a result, fans may have difficulty seeing parts of the field from their seat.
Bleachers: 6,474 seats
If you're looking for an affordable way to see a Red Sox game, then one of the 6,474 bleacher seats at Fenway might be the way to go. Bleachers are located in right field and right-center field and offer some of the cheapest tickets for a game. However, there are some drawbacks that you should be aware of before you purchase your tickets.
One of the biggest pros of bleacher seats is that they're usually among the most affordable tickets for a Red Sox game. If you're on a budget but still want to experience all the excitement of a live baseball game, then bleacher seats are definitely worth considering.
One of the main complaints about bleacher seats is that they're often too far away from home plate to really get a good view of the action. If you're someone who enjoys seeing all the details of the game, then these seats might not be ideal for you.
Green Monster: 269 seats
The Green Monster is perhaps the most iconic feature of Fenway Park. The massive wall in left field stands 37 feet tall and is covered in ivy. The Green Monster was originally built to block out street noise from nearby homes, but it quickly became one of the most recognizable features of Fenway Park. These days, there are 269 seats on top of the Green Monster – making them some of the most coveted tickets in baseball.
Right Field Sam Deck: 202 seats
In 2004, a section of seating was added to right field known as "The Sam Deck." Originally named Budweiser Right Field Roof, it was later changed by the beer company, Samuel Adams. The Sam Deck has a capacity of 202 people.
Attendance
The lowest attendance on record was 306 paid spectators, which occurred on October 1, 1964.
The highest recorded attendance was 47,627 fans, which happened on September 20, 2008.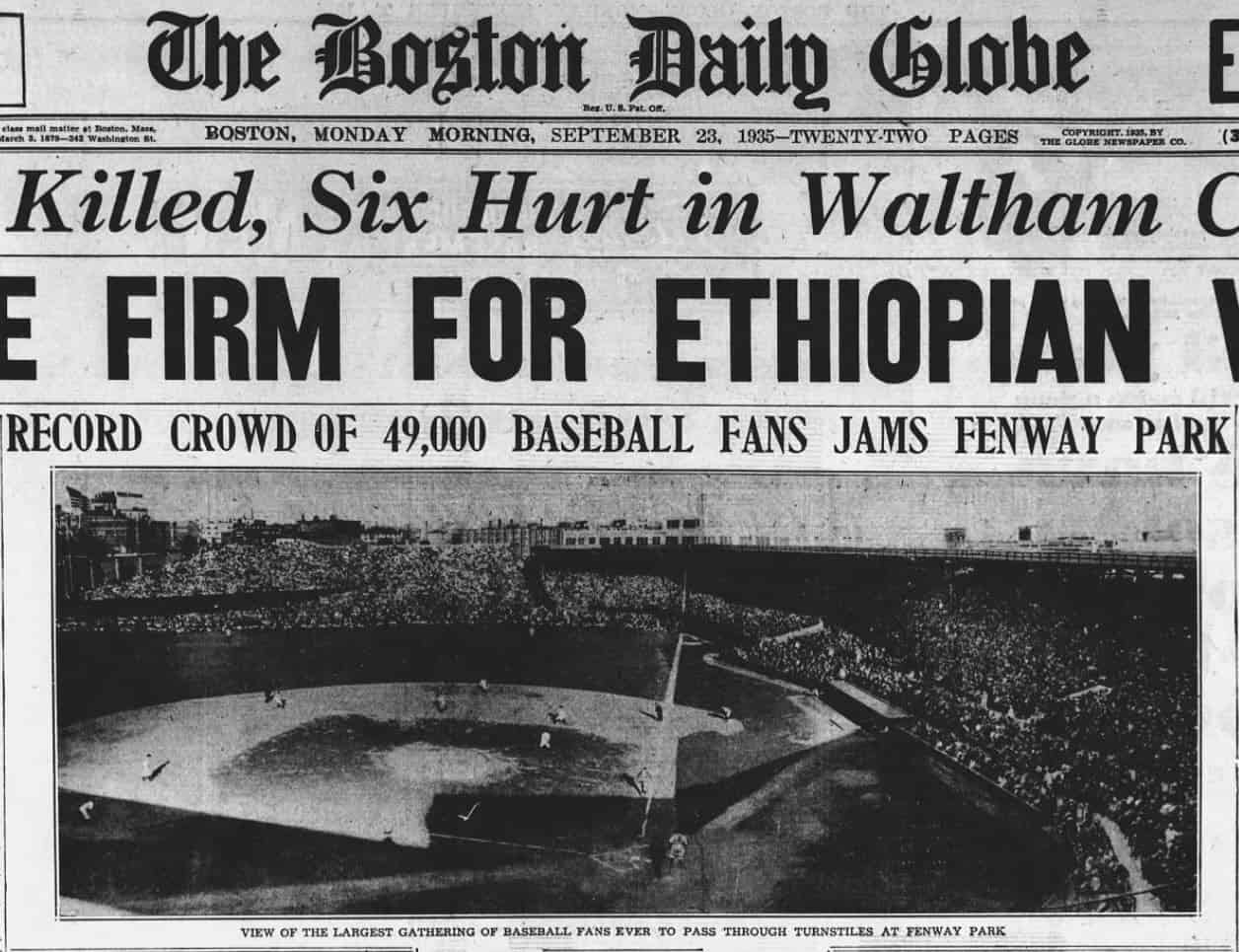 Since the sold out game against the Texas Rangers on May 15, 2003; Fenway enjoyed a sellout streak that lasted until 2013. The sellout streak ended on April 11, 2013 after 794 regular season games and 26 postseason games were sold out; this is still the longest sellout streak in MLB history.
Fenway Park Dimensions
Fenway Park is one of the most iconic stadiums in all of baseball. It's also one of the most unique, thanks in part to its dimensions. From the Green Monster in left field to Pesky's Pole in right field, Fenway is unlike any other ballpark in the majors. So, just how big (or small) is Fenway Park? Let's take a look at the dimensions of America's Most Beloved Ballpark:
Left Field: 310 ft (94.5 m)
Deep Left-Center: 379 ft (115.5 m)
Center Field: 389 ft 9 in (118.8 m)
Deep Right-Center: 420 ft (128 m)
Right Center: 380 ft (115.8 m)
Right Field: 302 ft (92 m)
Backstop: 60 ft (18.3 m)
Fenway Park's left field is fairly short by today's standards. The original dimensions called for a mere 310 feet down the line.
The deep right-center field fence was originally 420 feet from home plate.
Fenway's right field is also relatively short compared to other ballparks; at 302 feet, it's the fourth-shortest right field fence in MLB.
What Fenway lacks in distance, it makes up for with its famous Green Monster—a 37-foot tall wall that serves as the backdrop for left fielders playing at America's Most Beloved Ballpark.
History and Renovations
Fenway Park opened on April 20, 1912 with a game against the New York Highlanders. The game was filled to capacity at 27,000 fans, and the Boston Red Sox went on to win the game 7-6 in 11 innings.
In the years since its opening, Fenway has undergone numerous renovations, but it has kept its classic charm.
The park has undergone several renovations over the years, most notably after a fire in 1926 that destroyed part of the left field bleachers.
The Red Sox were purchased by Tom Yawkey in 1933, who began an extensive renovation of the entire park. This included replacing wooden bleachers with concrete seating and adding a new press box.
Another fire in 1934 created an opportunity to improve the facilities even further.
In 1947, the Red Sox installed a 37-foot high left field wall, officially dubbing it the Green Monster. The wall quickly became the signature feature of Fenway Park and a source of both pride and frustration for Sox fans. For nearly two decades, the Green Monster remained largely unchanged.
However, in 2002, under new ownership, the Red Sox undertook a major renovation of Fenway Park. The project included the addition of several rows of seats atop the Green Monster, as well as a new electronic message board and many other renovations.
Today, the Green Monster is an iconic part of Fenway Park and one of the most recognizable features in all of baseball.
From its humble beginnings to its current status as an icon, Fenway Park has always been a special place for baseball fans.
Fenway Park: A Small Stadium with a Huge History
Fenway Park has a relatively small seating capacity compared to other major league stadiums. At just over 37,000 seats, Fenway can't accommodate nearly as many fans as Yankee Stadium or Dodger Stadium.
This stadium is beloved by Sox fans for its unique size and history. While its capacity has changed slightly over time due to renovations and other factors, its overall essence has remained the same.
Sellouts have been commonplace at Fenway in recent years, so if you're hoping to catch a game there be sure to get your tickets early!
Our apologies if you found this post unhelpful.
How can it be improved? Your feedback is important to us!