Major League baseball fields and stadiums date back to the late 1800s. Many have come and gone due to age, construction, or the loss of a team. Looking around the league, there are many new stadiums, but there are still some older stadiums in use. Here are the ten oldest stadiums still in use in the MLB.
10. Oriole Park at Camden Yards
Located in Baltimore, Maryland, Oriole Park opened in 1992. It is the home of the Baltimore Orioles of the American League. You will notice that it is an open field design with a grass field. It seats just over 45,000 fans making it one of the larger capacity stadiums in the league. Oriole Park is what you call a retro-classic stadium. It has an old-school look with some of the new school amenities.
9. Guaranteed Rate Field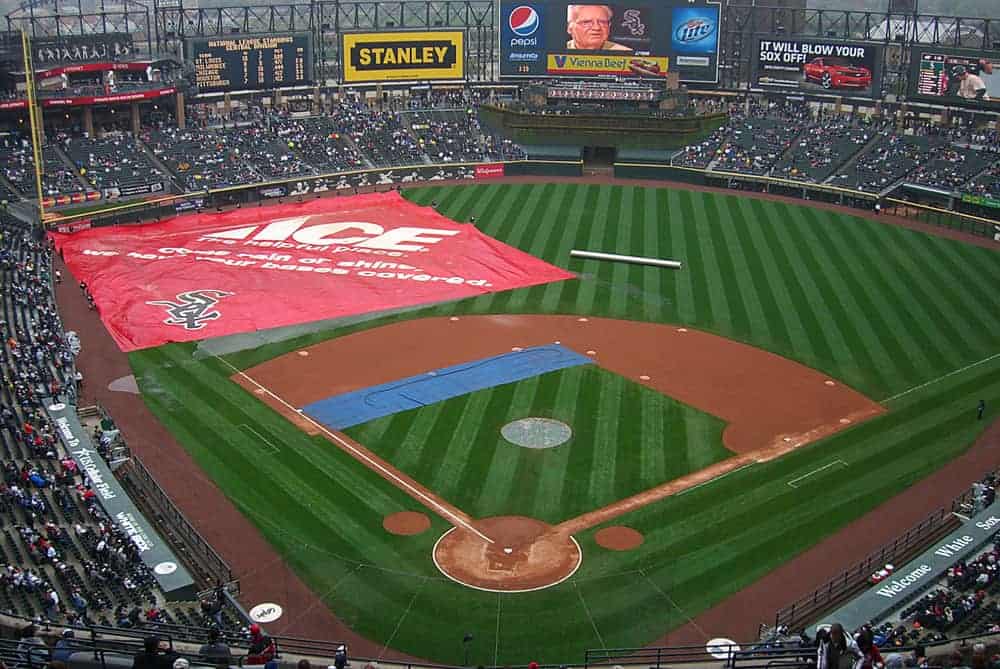 Located in Chicago, Illinois, Guaranteed Rate Field opened in 1991. It is the home of the Chicago White Sox of the American League. You will find that it is an open-air stadium, meaning you are not protected from the elements. Guaranteed Rate has a natural grass field that opens up to 400 feet in a straight-away center. Formerly known as New Comiskey Park, the stadium was the last of the modern-era ballparks built.  
8. Tropicana Field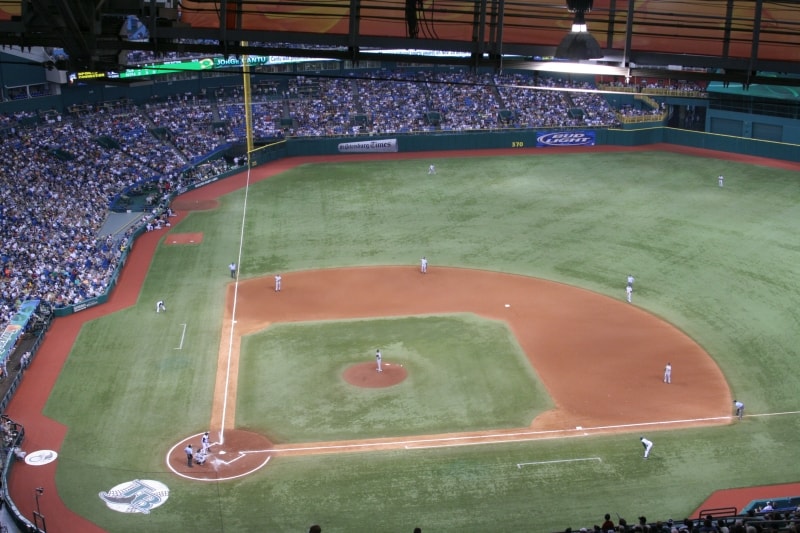 If you find yourself in St. Petersburg, Florida, you can grab a seat at Tropicana Field. Built in 1990, the stadium is home to the Tampa Bay Devil Rays. The covered modern stadium protects you from the elements. It is the only fixed-dome stadium in the league. Tropicana is a turf field with the centerfield wall running out to 404 feet in dead center. 
7. Rogers Centre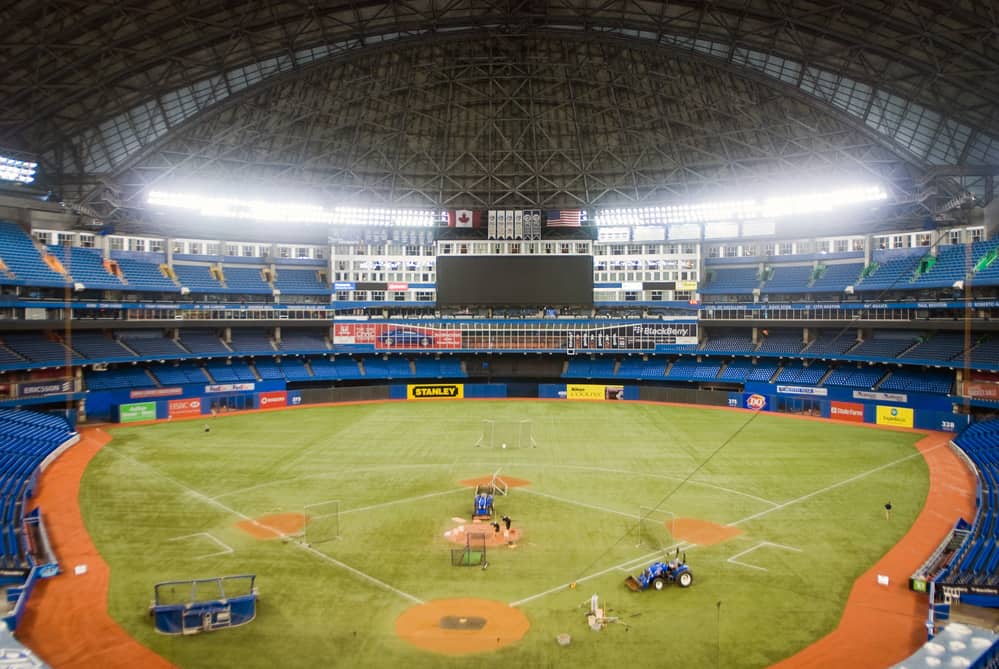 Built in 1989, the Rogers Centre is home to the Toronto Blue Jays. The park has a retractable roof and artificial turf. Formerly known as the SkyDome, Rogers Centre also features a hotel and restaurant. The centerfield fence is 400 feet from home plate. It is one of the last multi-purpose fields built. Rogers Centre seats 49,286 fans.
6. Kauffman Stadium
Kauffman Stadium is home to the Kansas City Royals. Built in 1973, it was named initially Royal Stadium. Later it became Kauffman Stadium in honor of the first Royals owner, Ewing Kauffman. It is the American League's only stadium named after a person. It seats 37,903 fans and is an open-air stadium. You will notice a grass field that reaches out to 410 feet to the centerfield fence.
5. RingCentral Stadium
Formerly known as the Oakland Coliseum, RingCentral Stadium was built in 1966. You will find RingCentral in Oakland, California. It is currently home to the Oakland Athletics.
It is a multipurpose stadium that used to host the Oakland Raiders of the NFL before their move to Las Vegas. The stadium seats 46,847 fans, but you will notice that it can hold upwards of 60,000. It has a grass field – dedicated to Hall of Famer Rickey Henderson. RingCentral has an open-air design. 
4. Angel Stadium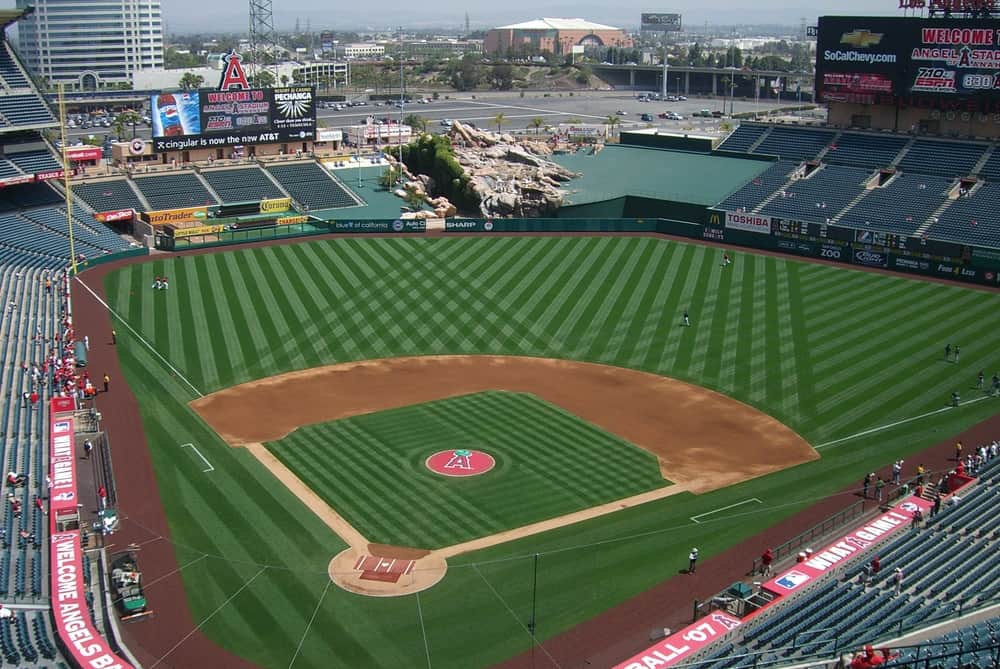 You will find Angel Stadium in sunny Anaheim, California. Also built in 1966, it is home to the Los Angeles Angels. Angel Stadium is another big ballpark that also hosted an NFL team in addition to its baseball tenant. The Los Angeles Rams of the NFL played their home games there from 1980 until 1994.
Originally, they named the stadium Anaheim Stadium. It is also known locally as the "Big A." It seats 45,517 fans. Angel Stadium has an all-grass field with a centerfield fence bordering it at 396 feet.  
3. Dodger Stadium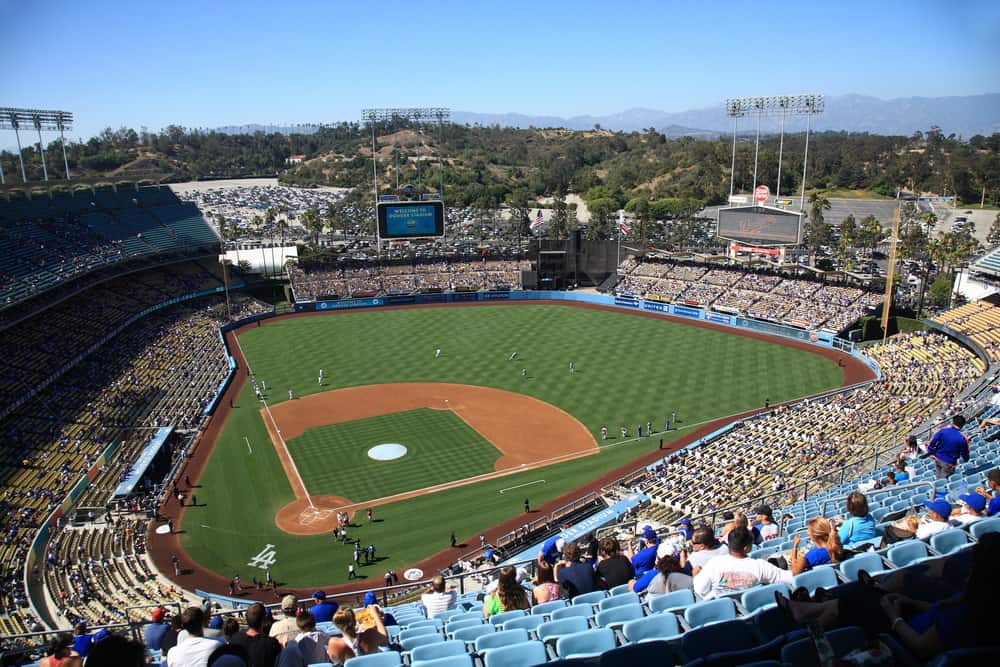 The third oldest stadium on the list is in Los Angeles, California. Built in 1962, shortly after the Dodgers' move from Brooklyn. You will notice that Dodger Stadium has the largest official capacity on this list at 56,000 fans. Dodger Stadium also boasts a grass field. It is an open-air stadium with a grass field.
What's unique about this field? It has hosted 10 World Series and seen 12 no-hitters. It was built as a baseball-only park but has hosted concerts, soccer games, boxing, and cricket matches. During renovations, they moved home plate, and now centerfield sits 395 feet away. Dodger Stadium is one of the most iconic fields in use. 
2. Wrigley Field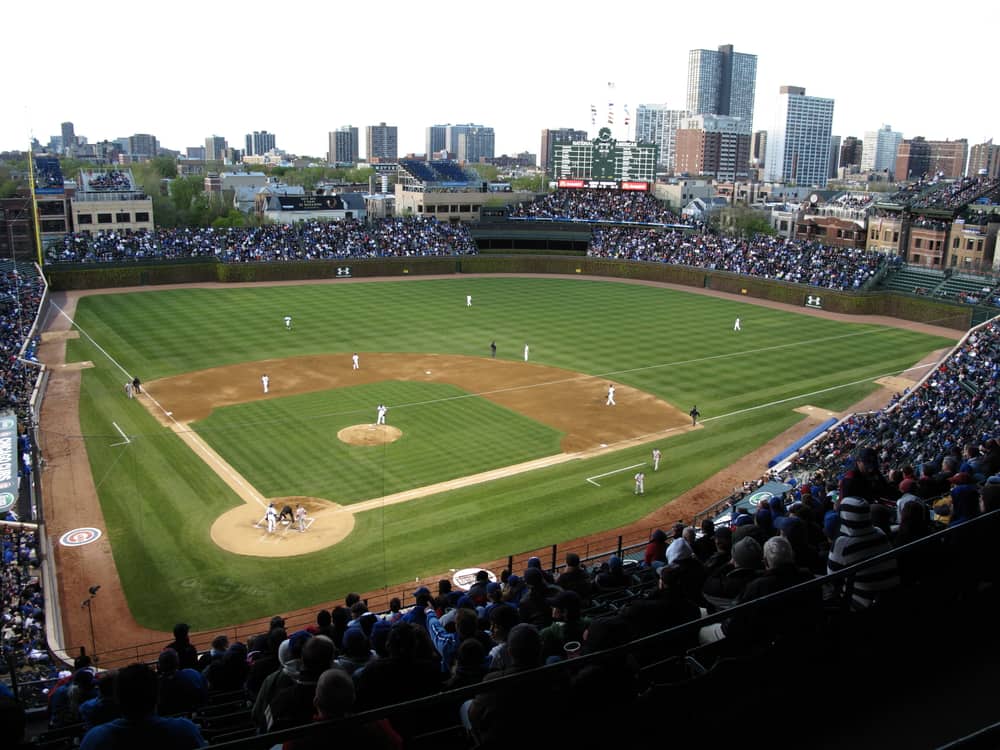 The second-oldest stadium in use sits on the Northside of Chicago, Illinois – Wrigley Field. It was built in 1914 for the Chicago Whales of the Federal League. The Chicago Cubs took over the stadium in 1916 after the Whales, and the Federal League folded in 1915. It was first known as Cubs Park until 1927. They named it Wrigley Field after William Wrigley Jr. of chewing gum fortune and fame.
Wrigley Field has a Jewel Box design. It sports an open-air roof and a grass field. Though it seats 41,649 fans, its design is not imposing or large. However, the centerfield wall sits 400 feet away from the home plate. It features a hand-turned scoreboard and ivy on the outfield wall.
Another unique feature of Wrigley is that it did not have lights until 1988. Before that year, all games were day games. Wrigley Field became a designated historical landmark in 2020. 
1. Fenway Park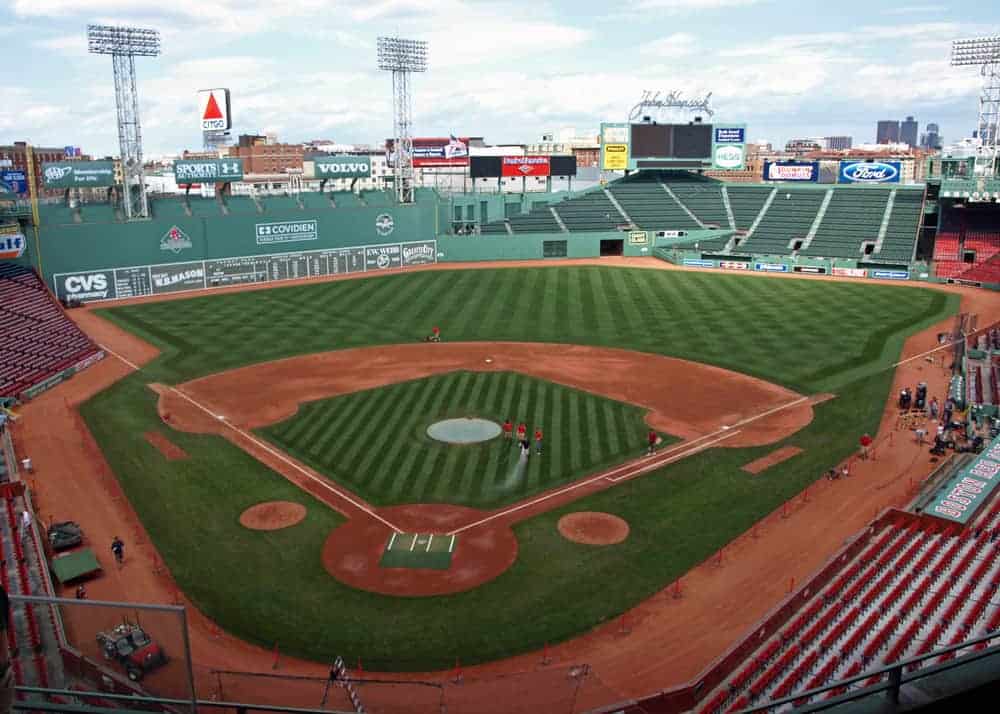 The oldest MLB stadium still in use is Fenway Park in Boston, Massachusetts. Fenway Park is home to the Boston Red Sox of the American League. Constructed in 1912 with a Jewel Box design, it has seen several renovations and has reached National Landmark status in its 100th year.
Fenway has many unique features, like Pesky's Pole, the Green Monster, and the Triangle. You will notice a range of dimensions in the outfield. The right field has a distance of 302 feet, while the furthest point is the triangle at 420 feet from home plate. Fenway Park seats 37,755 fans – though that number may be lower in a day game. Some seats are covered to produce a batter's eye during the day.
Our apologies if you found this post unhelpful.
How can it be improved? Your feedback is important to us!